So, since my lovely husband bought me a fancy new sewing machine for my birthday, I've been getting into sewing a bit more. It has been great fun being able to attempt projects that require more finesse than my grandma's old machine would allow. With that I was limited to straight stitch at approximately light-speed.  This made it very difficult to manoeuvre small objects or follow curves and the like. So now with my new beast I decided to try making baby shoes.
http://shwinandshwin.blogspot.co.nz/2011/05/little-man-shoes.html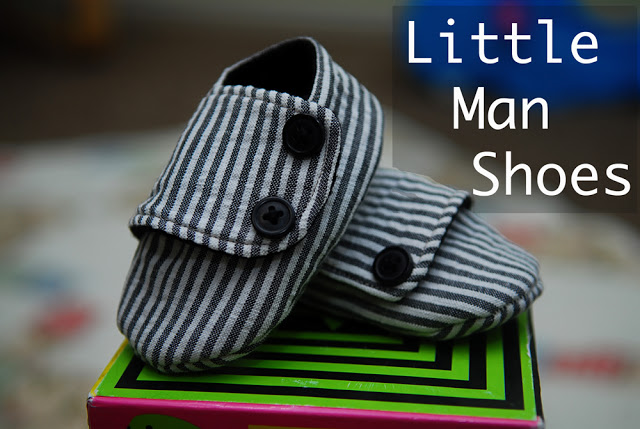 This great tutorial was my inspiration. Being the proud mother of a little man, I'm always on the lookout for neat things to make for little boys. There is an abundance of pink and frilly on the interwebs, but boy stuff is more difficult to find. I think these are just gorgeous, and BONUS!! the tutorial is thorough and fully illustrated which always makes things more fun.
Being a cheap-o crafter and a smarty-pants, I decided to try and make the above using 2nd hand mens ties instead of going and getting lost at the fabric shop. I altered the pattern a fair bit to make it possible to get the pieces out of a tie, and to make the finished product look slightly "tie-ish" (if that makes any sense at all). I intend to draw up the pattern I used properly in case anyone else wants to duplicate my finished shoes, but for the moment I'm just putting up pictures of the finished products.
After my first 2 tries at tie-shoes, I thought they were still looking a little on the girly side so I tried my had and making my own totally different baby shoe pattern. I was trying for a retro kind of bowling-shoe or dance shoe or something. I'm sort of happy with the result, though the pattern needs tweaking a bit still. I ended up making one pair with a tie, and another from some scrap fabric I had laying around from my Tepee project.
The last 4 photos in the gallery show my latest project, which I am so pleased with. These baby boots I totally made up from scratch, inspired by a pair of baby boots I saw at the Christchurch Museum. The original boots had the added ka-pow factor of lacy trip and rope detail, but I'm still trying for gender neutral at least so I kept my first pair plain.
So yeah, that's my new project obsession. I'm flitting between sewing shoes and knitting baby things for our imminent new arrive and for my niece/nephew to be. My plan is to write up the patterns and instructions for these 3 different designs of shoes and release them here (for anyone that happens to be reading) as I find the time. I hope someone sees them and likes them as much as I do. If not, never mind. I had fun anyway.